Posted on 06. Aug, 2010 by admin-AK in Featured, KolkataAshram
After Amma's speech at 100th Anniversary of "The Parliament of The World's Religions" in Chicago in 1993, She has been increasingly recognized by the international community as a treasured repository of practical spiritual wisdom. Amma has been regularly invited by several international organizations to address issues of religious differences, environmental issues and for establishing peace. They believe that She has the capacity to guide the world towards a brighter future.
In 1993, The Parliament of the World's Religions chose Her as one of three Presidents of Sanatana Dharma (which is the basis of Hindu religion). In 1995, Amma's talk titled, "Unity is Peace" was highly recognized and appreciated during United Nation's 50th anniversary Interfaith Celebrations held at New York. In 2000 Amma lent a unique charm to UN's Millennium World Peace Summit with Her spontaneity, humility, and tenderness. Asked by the press what She would do if She was the ruler of the world, She responded, "I would be the sweeper", so that She could "sweep everyone's mind clean."
Amma and Her humanitarian activities is constantly covered by media all over the world. In addition, She has been honored by numerous governments as well as mayors of several noteworthy cities of the world. Here we present a few gems from Her hall of fame and addresses at International Forums.
2010 – State University of New York, Buffalo confers Doctorate of Humane Letters to Amma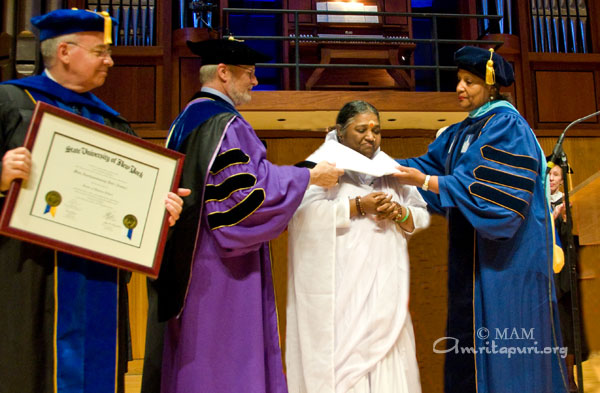 On 25 May, 2010, The State University of New York (SUNY) conferred Amma (Sri Mata Amritanandamayi Devi) with an honorary doctorate in humane letters at a special ceremony held at Lippes Concert Hall at SUNY's North Campus in Buffalo.
SUNY bestowed the doctorate degree to Amma in recognition of her tireless efforts on behalf of global peace, for her commitment to education and for far-reaching impact of her charitable organizations in relieving poverty and human suffering in India and around the world. Addressing the gathering, Dr. John B. Simpson, President of State University of New York at Buffalo, said,
Through this conferral, we pay tribute to the far-reaching contributions of a distinguished educational leader, prominent humanitarian and esteemed spiritual leader. Through her leadership of Amrita University as well as through her humanitarian work, Chancellor Amma exemplifies the value of international dialogue and dedicated public service in the global arena. These are values at the core of the University at Buffalo's mission as an internationalized public university seeking to prepare our students to contribute meaningfully to the global world
2010 – United Nations awards M.A. Center Germany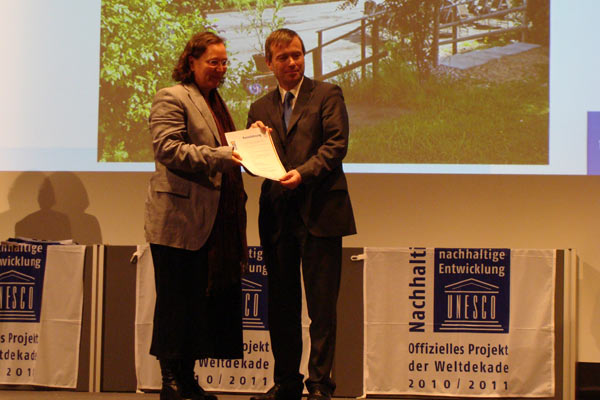 On 17 March, 2010, The National Committee of United Nations "Education for Sustainable Development" awarded M.A. Center Germany the status of an official UNESCO Decade Project at Cologne, Germany.
This award is given to institutions and communities that provide a positive example to the local community by operating according to the principles of sustainable living. M.A.Center, Germany, received this award for its holistic approach to sustainability in all areas of life …..
Click here to continue
2009 – President awards Dharama Ghadga Award to MAM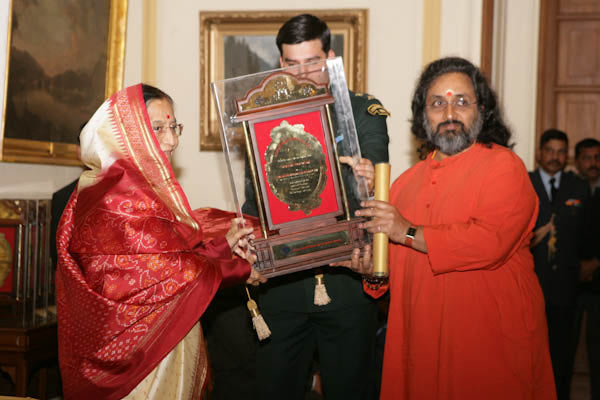 The President of India, Mrs. Pratibha Patil, presented the "Dharama Ghadga" award to MAM at Rashtrapati Bhavan.
The Pazhassi Raja National Royal Awards are distributed by the Pazhassi Raja Charitable Trust for exceptional contributors to society from all walks of life. Swami Amritaswarupananda accepted the award on behalf of MAM for the charitable activities undertaken by MAM …..
Click here to continue
2009 – Amma receives Shanti Swaroop Peace Award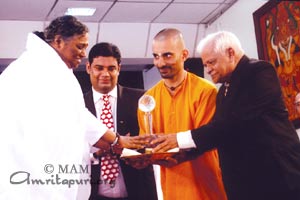 Vallabh Das, Chairman of the Junior Chamber International (JCI) Peace Award Foundation, presented Amma with their highest honor, "Shanti Swaroop" peace award.
Jaygopal Chandrasekharan, president of JCI, said that Amma was selected for the award because she championed the causes of peace, love, spiritual freedom and justice among humanity amidst strife over caste, creed, color, language and gender. While accepting the award Amma said,
As far as Amma is concerned Her children are her award. Amma accepts the award as a symbol of the dedication and love of the Jaycees towards Amma. Amma wants to rededicate this to her beloved children. But the true award to Amma would be if all of her children would make some space in their hearts, have some compassion for those who are suffering in the world. If that were possible we could make this earth into heaven
2008 – MAM at the UN conference about Human Rights, Paris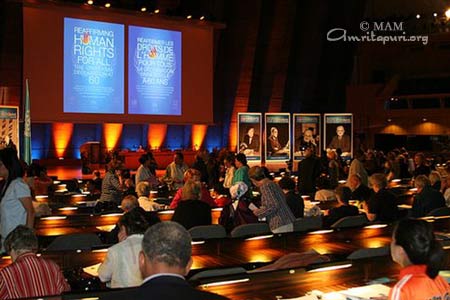 From September 3rd to 5th a conference was held at the UNESCO Headquarters in Paris to celebrate the 60th anniversary of the Universal Declaration of Human Rights. Mata Amritanandamayi Math's (MAM) team made a compelling presentation on its Farmer Relief Project at a break-out session of the conference.
MAM's initiative was noted as a best practice to empower populations in extreme poverty and restore their Human Rights. And it is not surprising that the work of MAM was cited at the DPI conference in Paris as a best practice in advancing Human Rights …..
Click here to continue
2008 – President Awards Ashram for Fighting Illiteracy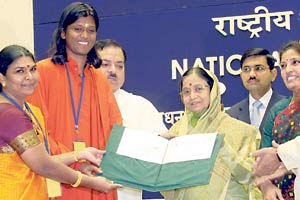 Mata Amritanandamayi Math (MAM) was presented with a 2008 NLM-UNESCO Award for Adult Literacy. The award was given in recognition of MAM's outstanding contribution to Adult Education Program Jan Shikshan Sansthan [JSS] in Sivakasi, Tamil Nadu.
The award was presented at a function in New Delhi by Her Excellency the President of India, Pratibha Devasingh Patil, to Swami Jnanamritananda Puri, the chairman of JSS Sivakasi …..
Click here to continue
2008 – Amma addresses Global Peace Initiative of Women Summit at Jaipur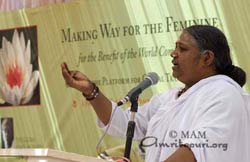 Amma addressed a summit organized by Global Peace Initiative of Women, at Clarks Amer Hotel, Jaipur. "Making Way for the Feminine for the Benefit of the World Community" was a conference for women comprising of religious and spiritual leaders from various segments of the world.
In Her address, "The Infinite Potential of Women", Amma called on the need for women and men to come together in unity, accepting, respecting and valuing each other's differences. Amma said that alienating women from matters of finance and politics is to discard half of the intellect and strength of society …..
Click here to continue
2007 – Cinema Verite Honours Amma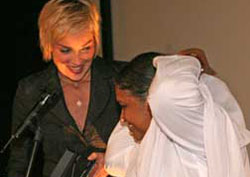 Academy Award nominee, actress Sharon Stone, presented Amma with the 'Prix Cinéma Vérité 2007′ Award in Paris on behalf of Cinema Verite.
Cinema Verite is a French film organization focused on creating awareness regarding human-rights issues.
Stone presented Amma with a silver necklace and locket. She lauded Amma's life of love, compassion and service,
The film Darshan is extremely inspiring. But the life of a person who gives themselves in service is something we can all aspire to because to do so is a choice.
2006 – The Interfaith center of New York presented Amma with the 4th annual James Parks Morton Interfaith Award at New York, USA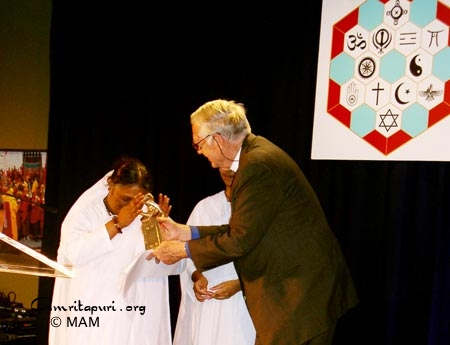 The Interfaith Center of New York (ICNY) bestowed Interfaith Center of New York's 4th Annual James Parks Morton Interfaith Award upon Amma for Her outstanding role as a spiritual leader and humanitarian, citing specifically Her organization's massive relief work in the wake of the 2004 Asian Tsunami. The award ceremony took place at Rubin Museum of Art in Manhattan. As part of the award ceremony, Amma delivered an address on intra-religious understanding and collaboration. She emphasized,
While great souls give importance to spiritual values, their followers often give more importance to institutions and organizations. As a result, the very religions that were meant to spread peace and tranquility by stringing people together on the thread of love have become the cause of war and conflict.
Since its inception in 1997, the Interfaith Award has been presented to 11 individuals who have done exceptional work in fostering peace and harmony between the diverse religions of the world …..
Click here to continue
2005 – University of South France honors Amma by appointing Her as the 'International Patron Mother'
L'Universite du Sud ( University of South France) has honored Amma by appointing Her as the 'International Patron Mother' for students participating in the newly created degree in 'Humanitarian Action and Rural Development.' The students, delighted to have Amma as their patron Mother, clapped when they heard this news.
The title was bestowed upon Amma on November 2nd, 2005, during Her visit to Toulon. Madame Martine Hardy, Director of the Common Services did the honors …..
Click here to continue
2005 – UN Recognition for Mata Amritanandamayi Math (MAM)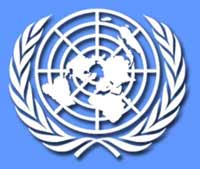 The United Nations (UN) along with the Economic and Social Council (ECOSOC) conferred the distinguished award of Special UN Consultative Status to Mata Amritanandamayi Math (MAM). After a thorough review of Mata Amritanandamayi Math's work and results for the past 15 years, including Amrita Institute of Medical Sciences (AIMS), Amrita University, and several major humanitarian projects, the United Nations' committee of 19 member nations in the ECOSOC Committee, voted unanimously to grant MAM its Special Consultative Status. The major ECOSOC body of 50 member nations affirmed this decision on July 21, 2005. The Math is among 30 Indian NGOs to receive formal UN affiliation in India.
2005 – "Darshan" – a film on Amma was screened at the prestigious Cannes Film Festival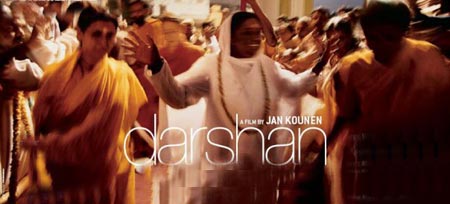 "Darshan – The Embrace", a film on the life of Amma was officially selected to be showcased at the prestigious Cannes Film Festival, 2005.
Manuel De La Roche of France, is the producer. Arte, a cultural television channel with a viewership of more than 300 million people in Germany and France, was a co-producer.
Jan Kounen, an award winning filmmaker who was born in Netherlands and is currently based in France, directed the film. Kounen said,
I want to present the portrait of a women, who as a young girl had a vision which made people feel she was going crazy. I want to document the journey of that girl into her present avatar as 'Amma'
2005 – Amma was honoured with Rotary International's Centenary Legendary Award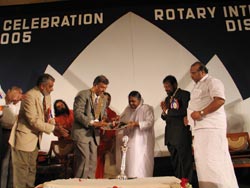 Amma was honoured with Rotary International's Centenary Legendary Award for Service to Humanity, International Understanding & Peace at the Le Meridian Hotel in Cochin.
In Amma's benedictory address, She asked Rotarians to come forward and form small aid groups to help people of the lower strata and Kerala's poor.
C.M. Abu Bakker, the governor of Ernakulam Rotary District, said:
Who are we to offer an award to Amma? We simply submit it at Her feet and pray that She blesses this organisation. It is this organisation that benefits from Amma accepting this award.
2004 – Amma delivers closing plenary address of the ten day gathering at Parliament of the World's Religions at Barcelona, Spain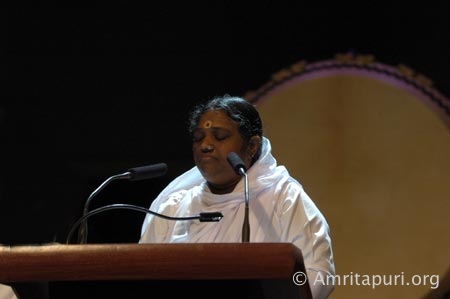 Amma presented the closing plenary address to a thunderous standing ovation on the final evening of a ten-day gathering of Parliament of the World's Religions (2004) at Barcelona, Spain. She was joined at the ceremonies by Federico Mayor, the former UNESCO Director-General, and Dr. Raimon Pannikkar, a respected Spanish philosopher.
Amma's discourse stressed the importance of harnessing "spiritual power" in an effort to rise above religious differences …..
Click here to continue
2002 – The World Movement for Non Violence awarded Amma the Gandhi-King Award for Non Violence at UN headquarters, Geneva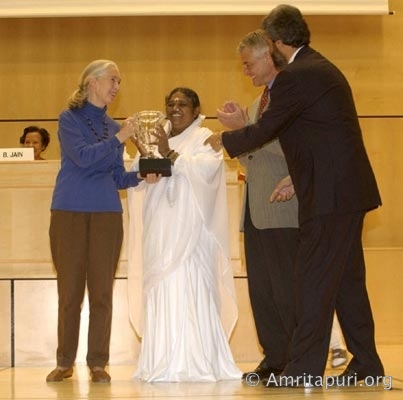 Amma was presented with the Gandhi-King Award for Non-Violence at the United Nations General Assembly Hall (Palais Des Nations) in Geneva (2002) in recognition of Her lifelong work in furthering the principles of non-violence.
Three previous recipients of this award were Nelson Mandela, Kofi Annan, and world-renowned primatologist Dr. Jane Goodall. While presenting this award to Amma, Dr. Goodall said:
I feel it's a great honor to share a platform with a woman who is so remarkable, and who is the very embodiment of goodness. She believes that God does not discriminate between the sexes, and I believe that she stands here in front of us, God's love in a human body.
Conference organizer, Dena Merriam, referred to this presentation as "the most important ceremony of this event." …..
Click here to continue
2002 – Amma is the keynote speaker at Global Peace Initiative of Women Religious and Spiritual Leaders at UN, Geneva
Amma was a keynote speaker at The Global Peace Initiative of Women Religious and Spiritual Leaders, at United Nations in Geneva, Switzerland. The conference was held in October 2002, and was an initiative of The United Nations' Millennium World Peace Summit, at which Amma spoke in August 2000 …..
Click here to continue
2000 – Amma is a keynote speaker at Millennium World Peace Summit, UN General Assembly, New York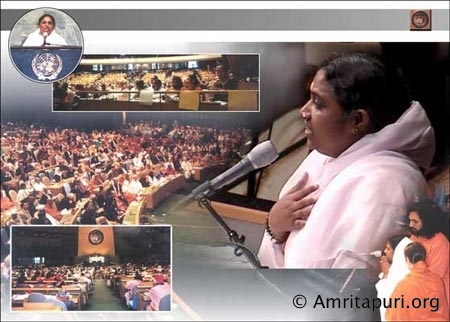 Amma was invited to deliver a keynote address at Millennium World Peace Summit of Religious and Spiritual Leaders held at United Nations in New York, August, 2000. The opening ceremonies of the Millennium World Peace Summit included prayers from world's preeminent religious leaders.
When Secretary General of the Summit, Mr. Bawa Jain, requested Amma to grace the assembly with Her prayers, She led the entire assembly in prayers for peace and happiness of all beings in all worlds …..
Click here to continue
1995 – Amma addresses Interfaith Celebrations at 50th Anniversary of United Nations, New York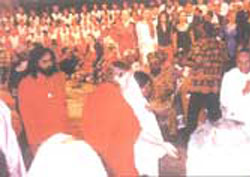 In 1995, Amma was invited to speak at an United Nations Conference on Visions for 21st Century, timed to coincide with 50th Anniversary Summit of United Nations.
The Temple of Understanding and the Council of Religious and Interfaith Organizations sponsored this conference, a forum for religious leaders, diplomats, NGOs, and educators to present their visions for the next century …..
Click here to continue
1993 – The Parliament of the World's Religions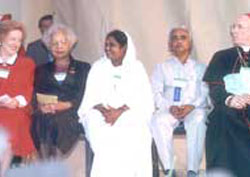 In 1893, the first Parliament of the World's Religions was held in Chicago. The centenary of the Parliament of the World's Religions was also held in Chicago, from August 28 to September 4, 1993.
Over 6500 delegates, representing approximately 125 of the world's religions participated in this grand Parliament. Among them were approximately 600 spiritual leaders from around the globe. Amma was chosen as one of three presidents to represent Hindu faith …..
Click here to continue

If you're new here, you may want to subscribe to our newsletter [By: RSS feed | Email ] for the latest updates. It's FREE. Thanks for visiting!
Related posts: