Posted on 20. Jan, 2010 by admin-AK in Featured, KolkataAshram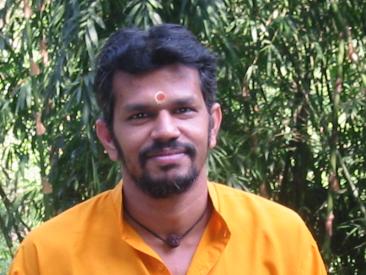 …… God Fulfills Himself In Many Ways
Lest One Good Custom Should Corrupt The World ….
When I happened to pen my thoughts in 1999 for a similar forum, I was excited about the decade of progress that included my initiation and formative period in ashram under Amma's guidance and scrutiny, the strides I made under Her direct care and love. I was overwhelmed with the thoughts of my first meeting with Amma and how the turn of events led me to realize my boyhood dreams of entering the exclusive institution of monastery.
Now when I take a look into the decade that has since ensued I can find the grace of Amma having manifested in many different ways to provide new directions, exposing me to the hazards of day to day life yet securing me in the process to develop a strong resolve, providing me the tender care and love to protect me from the currents that seemed to engulf me in my march forward. The decade had been rather eventful with challenges, realization of goals, course corrections, and renewed attempts to further my spiritual sadhana and its enhancement.
It had been a long and purposeful journey for me now when I look back. My induction to Palakkad just in time to organize the Brahmasthanam Pratishta before being deputed with extra responsibilities of realizing Math center complexes at Hyderabad and Baroda, Ahmedabad and later Kolkata, Durgapur and Andamans dotted with duties related to Amrita Kuteeram programs in Hyderabad, Bhuj, Durgapur and Kadapa kept me continuously busy, at times appearing to take a toll on my physical health. Amma's Grace dominated everytime. I thought I would break down, during the period when I was afflicted by a killer brand of Malaria of Bhuj region. Like a protected child oblivious of the ring of security cast by its mother, I traversed through adversities and came out of all the challenges, duly well burnished with Amma's infinite compassion and care.
With all the hues that mark the picture of this decade I find that Amma had definite designs to provide shape and direction to my unfolding. The assignments that were given to me on this eve of the millennium has probably materialized the objectives in may ways and that seem to have created an air of elevated confidence in me paving way for extended responsibilities from being the co-coordinator for Hyderabad program to several other programs, simultaneously, to Ahmedabad and Kolkata amongst others. The events that followed, it would seem now, stands out as a definite step by Amma to set me on a course correction and discover the 'me' in me, in many ways.
The elevation to higher levels of responsibilities was probably the means to a progressive and objective end, I now realize. I was subjected to enormous pressures arising out of finer tuning of the coordination and control, physical strains of travels from the plains of Bhuj in the reconstruction project of earthquake ridden village of Dagara, Mohkhana and Modsar to land acquisition and development of Math centers at Kolkata, Durgapur, Ahmedabad and Andamans in the Far East. When the programs of these centers seemed to integrate into a feverish pitch, consequently appearing to subject me to greater physical and mental stress, Amma's Grace came down as if in a torrential shower, to call me back to the ashram in 2006 to spend a brief period directly in Her proximity in the ashram. The communication was mostly silent during this period although Amma, the giver knew it all the time and me, the benefactor knew it once in a while, although mostly only at the end. The transformation that was being subjected by Amma, was slow, steady and purposeful.
Around the time I was assigned on projects outside the ashram, in October 2007, I happened to spend a few hours during an evening, standing close to Her. Amongst many a point related to the assignment, Amma remarked:
I find that your spiritual sadhana during your physical stay here has helped you to grow and secure you a strong resolve
I could only smile an answer, looking deeply into Her effulgent Eyes, but something in me made me remark "Amma, but you did not seem to help me in my physical state?" Amma replied,
Son, are you not aware of the caterpillar breaking open from its cocoon? We could help it to cut open the shackles but it will not survive subsequently.
Suddenly the realization of Amma's Grace, compassion and love dawned on me. It became apparent that She was all the time aware of the challenges and difficulties that I underwent during the period, but She was there overseeing the turn of events, protecting me on one hand and helping me to grow strong on the other.
The import of the oft repeated Sufi story appeared to strike me. The first person narrator of the story was walking along with God on the Sands of Time. Reverting to a first person's account:
At a point when I looked back, I saw distinctly two pairs of steps of footprints marked on the way, on the sands of Time. I also found that at times, there was only one pair of steps that were visible and I understood that they were the most critical times of my life.

Turning to God, I said, "God you said that you would walk along with me through and I find that you have deserted me at the most difficult moments of my life"! God smiled and said, "Son, those were the times I carried you in my arms."
Nothing can be more apt in conclusion than the words of Ron Gottseqen, the Administrative Executive of AIMS:
Through Mother's Grace I have experienced the fullness of joy, love and spiritual growth over the last ten years. I can conceive nothing more than the blessings that came through serving Mother for the fulfillment of Her Divine Mission.
Related posts: